Congratulations, Madeline & Oneyda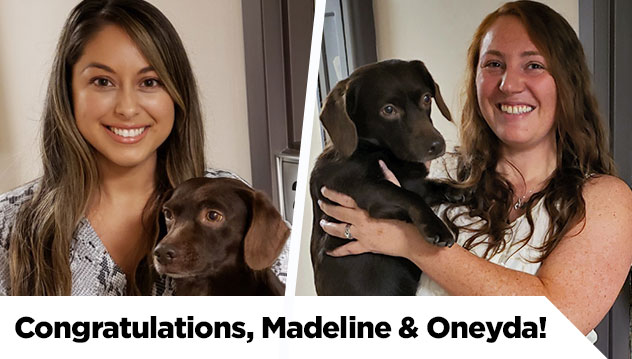 August 17, 2020
Two of our wonderful clinical interns are graduating this month and we wanted to wish them well!  Both Oneyda Garcia and Madelyn Lynch directly support New Leaf's mission of making counseling accessible for all while working in our Reduced Fee program providing free and low fee counseling for the uninsured and under-insured.
Oneyda Garcia has spent over a year with us beginning her internship in May of 2019.  She joins us from Nova Southeastern's Clinical Mental Health Counseling program and completed her both her clinical internship for counseling as well as additional internship for substance abuse counseling.  Oneyda provided over 400 hours of direct care to those in need and really made a positive impact on many lives!
Madelyn Lynch began her internship in August of 2019 and joins us from Liberty University's Masters in Clinical Counseling program.  She also provided over 400 hours of direct client care to those who wouldn't have been able to afford counseling otherwise.  In addition to taking on the challenge of honing their clinical skills, both were able to successfully transition to the use of teletherapy when COVID-19 changed the way everyone provided care.
Oneyda and Madeline have continued working with all their clients, in addition to working with new individuals as the demand for counseling has increased since the onset of COVID-19.  From March through July of this year, they helped to provide over 300 hours of free counseling in the Reduced Fee Program as all fees were waived due to financial hardship for clients.  Both Oneyda and Madeline developed so much professionally during their time with New Leaf and will continue to do great work in the mental health field after graduation.  They will certainly be missed!