Therapist Spotlight – Lauren Madsen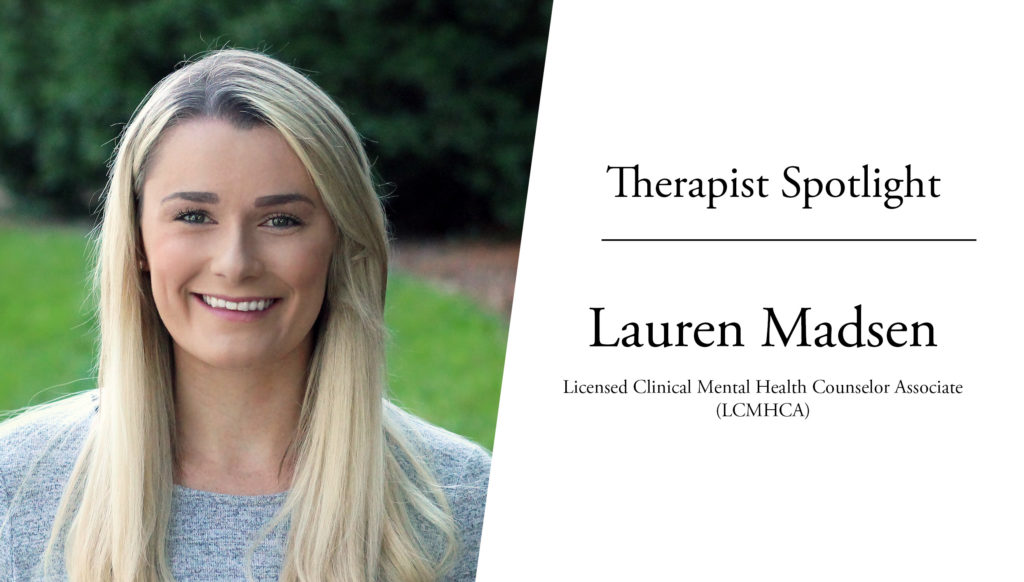 August 25, 2020
Lauren Madsen is a LCMHCA working with New Leaf since September of 2019.  In addition to being a counselor at New Leaf, Lauren was also a clinical intern with us for the 2018 to 2019 school year as part of UNC Chapel Hill's Clinical Rehabilitation and Mental Health Counseling master's program.  While an intern, she received training under the guidance of Patrick Malloy, our Executive Director, and began honing her clinical skills.  We would love you to get to know Lauren a little better!
Lauren knew that she wanted to work in a helping profession since she can remember, but her specific interest in working in mental health began after taking a psychology class in high school. She was fascinated by the human mind and how mental functioning impacts, and is impacted by, every single thing that we do. She was attracted to the idea of making an impact on people's health in a non-physically invasive way.
Her initial exposure to the profession was working with individuals with developmental disorders, such as autism spectrum disorder and cerebral palsy. She took part in conducting a research study on community integration in individuals with cerebral palsy. Along with a colleague at UNC, she presented these research findings at the National Council on Rehabilitation Education Conference in 2018.
Lauren was incredibly fortunate to have received such a high level of training at each step of her career, leading her to New Leaf Behavioral Health. Prior to accepting her full-time position as a therapist, she completed her clinical internship at NLBH, where she provided individual and family therapy. Her internship at NLBH gave her exposure to a diverse clientele with varying mental health needs. She learned to conceptualize client issues through various theoretical orientations while considering the comprehensive needs of clients.
When asked about what she likes about working at NLBH, Lauren answered: "Where to begin. I truly love the job itself and the diverse range of clients that I have had the opportunity to work with. My position is based both in the office as well as in the community, working with clients in their homes. I love that my position at NLBH has allowed me to provide services to clients in the community who otherwise may not be able to access mental health services.".
NLBH's treatment model focuses on reaching clients with barriers to accessing treatment. One client story that encompasses the importance and success of NLBH's treatment model is about a middle school-aged client that Lauren was seeing in their home for family therapy. This client would not have been able to consistently engage in treatment held in the office due to transportation and financial barriers. The client presented symptoms of social anxiety and depression.  Lauren said that seeing this client in their home gave her so much context and insight into contributing factors to their symptoms. This is just one example of the many clients who are positively impacted by the outreach that NLBH provides.